Diwali is a popular festival of lights celebrated every year with great pomp and show. The festival symbolises the victory of good over evil. On this special eve, people light lamps, decorate their homes and meet their relatives and friends. The streets, shops and houses in London are decking up to celebrate the festival of lights
However, of all, food is one of the most important parts of the Diwali celebrations. London has unlimited restaurants where you can enjoy authentic Diwali meals.
However, with a plethora of options available in the market, it can be tough to pick the perfect London restaurant to spruce up your Diwali celebrations.
No worries!
Listed below are some of the best restaurants in London to celebrate Diwali with great zeal this October.
Top 5 Restaurants In London To Celebrate The Festival Of Lights
1. Singburi
Singburi is London's one of the most popular restaurants serving authentic Thai dishes. From starters to soups, Thai curries, noodles and vegetarian meals, the restaurant serves a great variety of dishes at budget-friendly rates.
The restaurant is best known for its vast menu, customer service, location and of course the ambience. The food is the priority and the food is lip-smacking.
So, this Diwali, look no further than Singburi to make your day memorable.
Address : 593 High Rd Leytonstone, London E11 4PA
Must Try : Thai curries & noodles
Service Options : Dine-in & takeout
Operational Hours : 6–10:30 PM
2. BiBi
Do you crave to have authentic Indian food to celebrate the festival of lights? Well, we have the perfect solution for you.
BiBi is a popular contemporary Indian restaurant that offers an innovative menu of South Asian. From spicy chaats to grills, Roomali Rotis and Pulao, the menu includes a variety of Indian dishes. That's not all!
The restaurant serves some of the best beverages, including cocktails, teas and beers to name a few. The eye-catching interiors, lip-smacking dishes, pocket-friendly rates and calming atmosphere are enough factors to draw customers toward this restaurant on Diwali.
Make your Diwali extra special with your friends and family at BiBi.
Address : 42 N Audley St, London W1K 6ZP
Must Try : Chaats and grills
Service Options : Dine-in & curbside pickup
Operational Hours : 12–2:30 PM & 5–9:30 PM
3. Gymkhana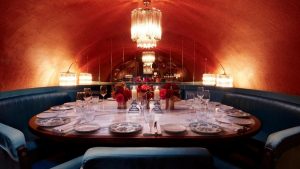 Spruce up your Diwali celebrations with Gymkhana. It is a customer-favourite Indian restaurant serving the best Indian dishes ranging from Dum Aloo Kashmiri to Methi Malai Mutter Paneer and Saffron Pistachio Kulfi Falooda to name a few.
This Raj-era-themed Indian restaurant offers tandoor oven roasts, sigri charcoal grills & seasonal curries that one should never skip. This Diwali, give your friends or family an excellent dining experience at Gymkhana without breaking the bank.
Address : 42 Albemarle St, London W1S 4JH
Must Try : Dum Aloo Kashmiri & Kulfi Falooda
Service Options : Dine-in & delivery
Operational Hours : 12–2:30 PM & 5:30–10:30 PM
4. 40 Maltby Street
40 Maltby Street is a famous eating point located in the warehouse of Gergovie Wines. Customers can try some of the best beverages and delicious food items of the restaurant.
Not only the food is delicious but the beverages the restaurant serves are also tempting and thirst-quenching. So, whether it is a weekday or weekend, holiday or working day, Diwali or other festivals, the place is ideal to have fun with your friends or family members.
Address : 40 Maltby St, London SE1 3PA
Must Try : Baked Goods & Sandwiches
Service Options : Dine-in & takeout
Operational Hours : 12–5 PM & 5:30–10 PM
5. Brat
BRAT is another eating spot famous among customers for a lot of reasons like scrumptious dishes, excellent beverages, great customer service and appealing interiors. It is a bar cum grill restaurant where you can spend quality time with your friends or family members on the eve of Diwali
The restaurant menu has a plethora of options when it comes to choosing the perfect dish to make your day count. Be it Diwali or any other festival, the place offers unlimited opportunities to celebrate your big day.
Address : 4 Redchurch St, London E1 6JL
Must Try : Smoked Potatoes & Flourish Salad
Service Options : Dine-in & curbside pickup
Operational Hours : 12–3:30 PM & 5:30–10 PM
In The End…
Looking for effective ways to promote your food business? Well, listing your business on online directories offers a host of benefits, including building brand awareness, reaching a wider audience and gaining a competitive edge to name a few. If you also want to reap all benefits of business listing, choose Trusted Business Reviews. TBR is a trusted platform where you can list your business for free and get connected with your target audience.